Support Healthy Cholesterol Naturally
with Cholesterol Metabolizer®

for as low as $19.95/bottle
Order Cholesterol Metabolizer® Online
or
Call

1.877.965.2140

(Toll-Free)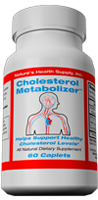 Warning: Don't be fooled by "copy cat" companies who advertise with our name. Their "knock off" products don't come close to our #1 rated, Cholesterol Metabolizer®, which since 2001 has helped thousands of people support healthy cholesterol. This website is the only source for the original and authentic Cholesterol Metabolizer®
Risk Factors for High Cholesterol
High cholesterol is responsible for 70% of heart disease and is the leading killer of both men and women after the age of 45. It leads to arterial blockage, heart attacks, hardening of the arteries, blood clots, clogged arteries, and stroke. There are a number of factors that influence a person's cholesterol levels. They include diet, age, weight, gender, genetics, diseases and lifestyle.
Diet

Most of us consume foods high in dietary fat. Foods which are fried or are high in animal fats will directly raise blood serum levels of "bad cholesterol"

Foods which are high in simple carbohydrates such as sugars, bread, pasta and sweets indirectly raise "bad cholesterol" levels as they are converted into "bad cholesterol" by the liver. This explains why some vegetarians have high cholesterol.

Age

The blood levels of cholesterol tend to increase as we age--a factor doctors consider when deciding treatment options for patients with certain cholesterol levels.

Weight

People who are overweight are more likely to have high blood cholesterol levels. They also tend to have lower HDL levels. The location of the excess weight also seems to play a role in cholesterol levels. A greater risk of increased cholesterol levels occurs when that extra weight is centered in the abdominal region, as opposed to the legs or buttocks.

Gender

Men tend to have higher LDL levels and lower HDL levels than do women, especially before age 50. After age 50, when women are in their post-menopausal years, decreasing amounts of estrogen are thought to cause the LDL level to rise.

Genetics

Some people are genetically predisposed to having high levels of cholesterol. A variety of minor genetic defects can lead to excessive production of LDLs or a decreased capacity for their removal. This tendency towards high cholesterol levels is often passed on from parents to their children. If your parents have high cholesterol, you need to be tested to see if your cholesterol levels are also elevated.

Disease

Diseases such as diabetes can lower HDL levels, increase triglycerides and accelerate the development of atherosclerosis. High blood pressure, or hypertension, can also hasten the development of atherosclerosis, and some medications used to treat it can increase LDL and triglycerides and decrease HDL levels.

Lifestyle

Factors that negatively affect cholesterol levels also include high levels of stress, which can raise total cholesterol levels, and cigarette smoking, which can lower a person's HDL level as much as 15 percent. On the other hand, strenuous exercise can increase HDL levels and decrease LDL levels. Exercise also can help reduce body weight, which, in turn, can help reduce cholesterol. Recent research has shown that moderate alcohol use (one drink per day for women, two drinks a day for men) can raise HDL cholesterol and therefore reduce the risk of heart attack. Despite such research, it is difficult to recommend the habitual use of alcohol because there are also negative health consequences associated with alcohol use and a high potential for abuse.



• Click Here to learn more about Sea of Greens™ . . . a 100% natural, Whole-Superfood supplement, combining an optimal blend of edible sea vegetables (from the pristine northern Atlantic Ocean) with Freshwater algae. Sea of Greens™ Contains 5 species of seaweed (Bladderwrack, Wakame, Rockweed, Sea Lettuce and Dulse) + 2 species of freshwater algae (Spirulina & Chlorella). It is a rich source of organically bound vegetable iodine as well as fucoidan. Each bottle contains (180) vegetable capsules (a 30 day supply).
• Click Here to learn why Prostate Miracle® Advanced Formula is trusted by thousands to support healthy urinary flow and prostate health.

Featuring all natural beta sitosterol, which is 3,000 times more powerful than saw palmetto, Prostate Miracle® Advanced Formula is completely safe and has no contra-indications, drug interactions, or side effects.

Each 2 capsule serving provides 600mg of GMO free, pine based, phytosterol complex (imported from Germany) and is guaranteed to be 99% pure and contain NOT less than 70% beta sitosterol. Each bottle contains (60) 100% vegetable capsules (a 30 day supply) and comes with a money back guarantee!

• Coral Calcium "Marine Plus" is based on the Coral Calcium formula Bob Barefoot used to sell on the Shop America TV Infomercial, but serving size has been upgraded from 1,000 to 1,500 mg. and still comes in a 90-count bottle. Each 3 capsule serving contains 1,500 mg. of "marine grade" Coral Calcium from Okinawa, Japan + 816 iu's of Vitamin D as well as vitamins A, B, C & E + Aquamin, Cesium and folates. Click Here for more info about Bob Barefoot and Coral Calcium.
• Click Here to learn more about
Diabetes Daily Care® a Unique, 100% Natural Formula, which may help support healthy blood sugar levels. Diabetes Daily Care® combines the extracts of Cinnamon Bark, Banaba Leaf, Fenugreek, Gymnema Sylvestre and Mamordica with Alpha Lipoic Acid, Chromax® and Vanadium. There is no other natural diabetes support formula out there which contains all of these ingredients together in the generous amounts that Diabetes Daily Care® provides.
• Click Here to learn about Vitamin D and it's role in building and maintaining good bone health. Adequate calcium and vitamin D throughout life, along with physical activity, may reduce the risk of osteoporosis in later life.
D MAX contains a whooping 5,000 iu's of Vitamin D3 per capsule.
• Click Here to learn how Pectin Plus® supports healthy detoxification. Pectin Plus® contains a unique combination of Citrus Pectin (from grapefruit rind) plus the extracts of Cilantro and Aged Garlic (odorless and standardized). Pectin Plus® helps support detoxification and removal of heavy metals from your body, helps support the immune system, healthy blood pressure, healthy cholesterol levels, helps promotes prostate heath and "normal" cell growth too.
• Immune System Plus™ is an immune system support formula based on Beta Glucan, which is extracted from oat and is unsurpassed in it's ability to help support a healthy immune system. Immune System Plus™ is uniquely combined with Alpha Lipoic Acid, Tri Methyl Glycine, Colostrum and the extracts of Elderberry and Andographis, as well as Vitamins C and B12, Folate and Selenium
• Click Here to learn more about
Dr Lorraine Day and Barley Green a whole food concentrate that contains all the nutrients and phytochemicals of green barley leaves in natural proportions. Barley Green has one of the widest spectrums of "naturally occurring" nutrients available in a single source, containing more than a dozen vitamins & enzymes, all essential amino acids, over 20 minerals and chlorophyll.
• Estrogen Balance® is a natural formula for Men and Women, combining: D.I.M., Quercetin and Flaxseed. The latest research strongly implicates"estrogen dominance" as a major contributing factor in PMS, menopausal symptoms, prostate enlargement, early age heart attacks and cancer. Estrogen Balance® may help support an optimal ratio of estrogen metabolites in both men and women.
• Generate fresh pure water from thin air! Air2Water™ technology converts ambient atmospheric water vapor into potable water. Designed with advanced proprietary ultrafiltration membrane technology, Air2Water™ provides water in the purest form - much like crystal-like dew found only on the purest mountain tops.
Click for more info.
Thank you for visiting Cholesterol-Metabolizer.com
---
This information here within is designed to provide accurate information in regard to the subject matter covered. It is provided with the understanding that Nature's Health Supply is not engaged in rendering medical advice. If expert assistance is required, the services of a competent medical professional should be sought. These statements have not been evaluated by the Food and Drug Administration. These products are not intended to diagnose, treat, cure or prevent any disease. Always read and follow manufacturer's directions that come with this product.


You are protected by the FDA Dietary Supplement and Nonprescription Drug Consumer Protection Act

please call 877.965.2140 or Click here to report any Adverse Reaction with Cholesterol Metabolizer®.